ARUCC Groningen & Student Mobility Project
Advancing Student Mobility through Data Exchange
In spring 2014, a group of interested registrarial, pathway, and application centre colleagues held a roundtable discussion at the ARUCC PCCAT biennial conference. The topic focused on international student mobility with a particular focus on encouraging collaboration for secure and efficient transcript data exchange nationally and internationally. The first outcome of that meeting resulted in the formation of the ARUCC Groningen and Student Mobility Task Force, chaired by Kathleen Massey, University Registrar and Executive Director at McGill University. With collaborative partnerships with the Pan-Canadian Consortium on Admissions and Transfer (PCCAT) and the Canadian P20W Education Standards Council User Group (CanPESC), the Task Force recommended that ARUCC should become the first Canadian signatory to the international Groningen Declaration. ARUCC signed on in May 2015.
The ARUCC executive mandated the Task Force to:
champion the engagement of Canadian institutions in the implementation of the Groningen Declaration by fostering an ethos, culture and network that removes impediments for data portability, and provides the foundation for student mobility. These benefits will be realized throughout the various educational jurisdictions across Canada by fostering provincial models and/or pan-Canadian model of data exchange that serves Canada and the world.
Bringing the Groningen Declaration to Canada - Where are we today?

Currently, the project is being led by the ARUCC Groningen & Student Mobility Steering Committee chaired by Charmaine Hack, Registrar at Ryerson University and current President of ARUCC. Representatives from ARUCC, the Pan-Canadian Consortium on Admissions and Transfer (PCCAT), the Canadian University Council of Chief Information Officers (CUCCIO), and the Canadian P20W Education Standards Council User Group (CanPESC) sit on the Steering Committee. Suporting their efforts is Joanne Duklas of Duklas Cornerstone Consulting, a former ARUCC President.

Steering Committee Terms of Reference
ARUCC's Project Vision
Advancing national and international student mobility through trusted electronic data exchange
Steering Committee Goals
Enhancing Canada-wide data exchange capacity
Creating a national network for student data exchange to enhance and support student mobility
Steering Committee Purpose
Responsible for overseeing and steering the next stage of consultation, research, and planning on behalf of ARUCC
Principles Guiding the Work of the Steering Committee
Maintaining a student focus

Respecting provincial regulatory frameworks and institutional and provincial autonomy and authority

Focusing on priorities and activities that advance improvements and enhancements to student mobility and trusted data portability

Complementing the work of the existing Canadian student application centres and/or data exchange hubs supporting postsecondary institutions

Ensuring focused attention on existing and future needs for ARUCC membership

Encouraging collaboration with core partners including PCCAT, CUCCIO, and CanPESC

Ensuring Steering Committee efforts are of national interest and promote evidence-based research and decision making for student mobility and data exchange and portability
Consultation Update
Currently, consultation is occurring with more than 50 organizations both within Canada and internationally including with application centres, data exchange providers, councils on admission/articulation and transfer, government, post-secondary institutions, allied organizations, regulatory bodies, and others to ensure a deeper understanding of the gaps and opportunities, and to capture advice and support for this next phase of the project. For information on the kinds of questions informing the conversations with application centres and data exchange providers, review the following Research Information Request.

Research Request for Information 2017
As of mid October, 14 organizations provided written recommendations to the ARUCC Groningen Steering Committee. Sessions have occurred with more than 200 individuals since April 2017 alone and more are occurring as we seek to achieve a deeper understanding of the gaps and possible options that make sense for Canada.
Community Updates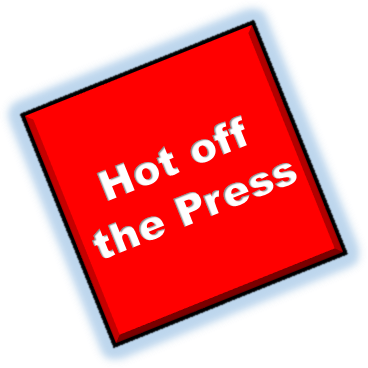 Steering Committee members broadened the consultation and information sharing about potential models for Canada with government colleagues, Canadian application centres, post-secondary institutions, and international data exchange providers and data standards experts at the October 2017 PESC Data Summit in Toronto.

Fall 2017 Project Briefing Update

Consultations conducted to-date (as of mid-October 2017)

Presentation for use by the community (updated September 2017)
Communication updates will be posted here regularly.
ARUCC is poised to move this initiative forward into the next phase.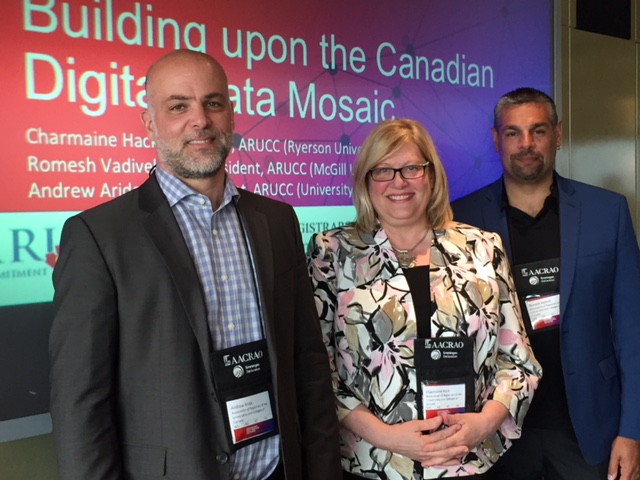 The ARUCC Groningen Steering Team in action at Groningen 2017!
Left to Right: Andrew Arida, Charmaine Hack, Romesh Vadivel
2017 ARUCC Groningen and Student Mobility Steering Committee
Representing ARUCC: Charmaine Hack, President, ARUCC, Registrar, Ryerson University and Chair of the Steering Committee; Andrew Arida, Past-President, ARUCC, Assistant Registrar, University of British Columbia; Romesh Vadivel, Vice-President, ARUCC, Assistant Registrar, McGill University

Representing the Pan-Canadian Council on Admissions and Transfer (PCCAT): Dr. Rob Fleming, Executive Director and Co-Chair, British Columbia Council on Articulation and Transfer; Dr. Robert Adamoski, Director, Research and Admissions, British Columbia Council on Articulation and Transfer

Representing CUCCIO: Brian Stewart, CIO, University of Alberta and Lori MacMullen, Executive Director, CUCCIO

Representing CanPESC: Leisa Wellsman, Associate Registrar, Conestoga College and Cathy van Soest, Co-Chair, CanPESC

Secretariat and Project Leadership Support to the Steering Committee: Joanne Duklas, Duklas Cornerstone Consulting, This email address is being protected from spambots. You need JavaScript enabled to view it.
The Purpose of the Groningen Initiative
The Groningen Declaration Network is an international organization that "…seeks common ground in best serving the academic and professional mobility needs of citizens worldwide by bringing together key stakeholders in the Digital Student Data Ecosystem."
The overarching goal of the Groningen Declaration is to create a framework to improve the international mobility of people, promoting world-wide education and economic development through the secure electronic exchange of postsecondary student information. ARUCC became a signatory to the Groningen Declaration principles in 2015.
Additional Resources
Activities in 2015 and 2016
Members of ARUCC's first Groningen and Student Mobility Task Force spent many months in 2016 consulting with the Canadian postsecondary stakeholder community with two goals in mind: to raise awareness about the Groningen initiative and to identify future participation in provincial and/or pan-Canadian data exchange initiatives, particularly the development of a Canadian model for exchanging digital postsecondary student information, such as transcript data.
In 2015 and 2016, the ARUCC Groningen and Student Mobility Task Force invited institutions to participate in a consultation process about the creation of a Canadian model for sharing digital postsecondary student information among postsecondary institutions, with the goal of enhancing student mobility across Canada and internationally. The Task Force completed its work in June 2016 and tabled a final report at the ARUCC biennial conference. With the Task Force recommendations in hand which were overwhelmingly endorsed by the membership.
The Task Force members gratefully acknowledge the work and participation of the hundreds of volunteers who participated in the 2016 pan-Canadian consultation process. The ARUCC Executive looks forward to continuing the consultation as we move forward with bringing Groningen to Canada.
View the outcomes of the ARUCC Groningen and Student Mobility Task Force 2016 consultation exercise below:
Members of the first 2016 ARUCC Groningen and Student Mobility Task Force
Kathleen Massey, Task Force Chair; University Registrar and Executive Director (Enrolment Services), McGill University
Andrew Arida, President, Association of Registrars of the Universities and Colleges of Canada (ARUCC); Director, Undergraduate Admissions, University of British Columbia
Angelique Saweckzo, Registrar, University of Calgary
Annik Gélineau, Registraire adjoint, University of Montreal
Cathy Van Soest, Manager, Student Data Services, BCcampus
Dr. Rob Fleming, Executive Director and Co-Chair, British Columbia Council on Admissions and Transfer (BCCAT)
Dr. Robert Adamoski, Associate Director, Admissions and Research, British Columbia Council on Admissions and Transfer (BCCAT)
Janine Hoover, Associate Registrar, Registration, Records, and Fees, Conestoga College
Joanne Duklas, Researcher and Consultant, Duklas Cornerstone Consulting
Leisa Wellsman, Manager, Applicant Services, Ontario Universities' Application Centre (OUAC)
Lori MacMullen, Executive Director, Canadian University Council of Chief Information Officers (CUCCIO) - Guest
Marie-Claude Binette, Registraire, University of Montreal
Melissa Pool, University Registrar, McMaster University
Pascal Robichaud, Registraire, Université de Moncton
Romesh Vadivel, Director, Service Point, McGill University
Tony Norrad, Associate Registrar, Admissions, Grant MacEwan University